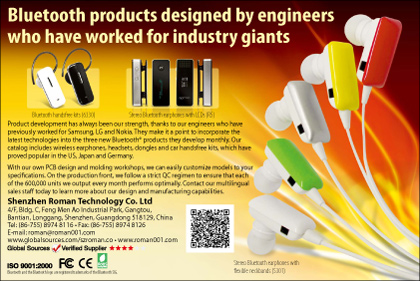 Share:




E-mail

Print

Bookmark
Shenzhen Roman Technology CO., LTD

Follow me

0 Star China (mainland)

Credit Check - Supplier Credit Profile

provides impartial credit and vital business metrics for select suppliers on Global Sources Online. Using the Credit Check reports, buyers can easily compare key indicators and more efficiently manage risk. Suppliers with a Credit Check logo have agreed to allow this information to be reported to help buyers streamline the selection and due-diligence processes.

The supplier information below has been obtained from relevant government agencies in the supplier's country and is subjected to change without prior notice. Credit Check and verification procedures were conducted by Sinotrust, a third-party credit agency.
Read Disclaimer


Registered Address:
E. 4/F No.3 Workshop Fengmen'ao Ind. Fty. Area
Fengmen Rd. Bantian Subdist.
Longgang District Shenzhen City
Guangdong Province China

Incorporation Date:
February 02, 2009
Legal Form:
Limited liability Company
Company Status:
Live
Registration Agency:
Shenzhen Municipal Administration for Industry and Commerce
Registration Number:
440307103830537
Authorized Capital:
RMB 500,000
Paid-Up Capital:
RMB 500,000
Legal Representatives:
CAO Yanhui
Import & Export Licences Obtained:
Yes
Business Scope:
Assembly, production, sale and technical development of blue tooth earphones (excluding the commodities specially operated, specially controlled and monopolized, and the restricted items); import and export of goods and technologies (excluding items banned by laws and regulations; no operation is allowed unless after a permit has been obtained where restricted)
Business Permit Expiry:
February 02, 2019
Shareholders:
• PENG Yu
• LUO Wenxing
• CAO Yanhui




Want a more detailed Credit Report on this supplier?



Authenticated and verified by:
Sinotrust


On December 28, 2011

Contact Details




Shenzhen Roman Technology CO., LTD
Floor 4, Building C, Feng Men Ao
Industrial Park, GangTou, BanTian
Longgang District,
Shenzhen
Guangdong
China 518129
Tel: (86 755) 89748116 Ext : 839 (0086 755) 89387886
Fax: (86 755) 89748126
Mobile: (0086) 18038011973
Homepage Address
http://www.globalsources.com/szroman.co




Chat with supplier using:

Key Contact:
Mr Yang, Edward
Sales Manager
Sales Dept


Mrs Cao, Emily
The General Manager (CEO)
Overall Boss


Supplier and product information updated April 17, 2013.
Verified Business Registration Details
Registered Company: 深圳市乐迈科技有限公司
Business Registration Number: 440307103830537
Company Registration Address: 深圳市龙岗区坂田街道风门路风门坳工业厂区厂房三4楼东侧


* In some jurisdictions, company names and addresses are registered in Chinese only.